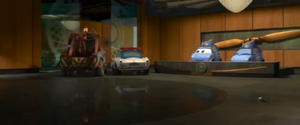 Mei and Satsuki are characters in Cars 2.
Cars 2
"Mei and Satsuki are not identical twins, so don't even ask. Both are sweet and delightful and make it a point to remember your first name when they check you in at the first-class lounge desk. A word to the wise: if you're trying to slip into the lounge without credentials, you'd better go through Mei, the younger one. She's way more lenient."[1]
They make a short appearance when Mater and Finn McMissile go through the airport lounge.
They are most likely modeled after the 1999 Smart forTwo Cabrio.
Trivia
Mei and Satsuki are the second pair of identical cars in the Cars series, with the first being Mia and Tia.
Mei and Satsuki are the names of the two main characters in the film My Neighbor Totoro, directed by Hayao Miyazaki, who is a close friend of John Lasseter.
References
↑ Disney/Pixar (2011). Meet the Cars. Disney Press. pp. 144. ISBN 978-1423147770