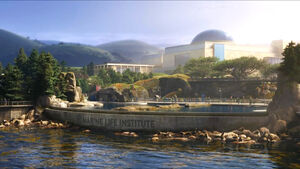 Marine Life Institute (shortened to MLI) is a major location in Finding Dory. It is a rehabilitation center for marine species. It also incorporates exhibits for educational purposes, such as several aquariums. As such, it works for the conservation of marine life. It is known to house several different types of animals, such as Hank, Bailey and Destiny, and previously Dory and her parents.
Gallery
Trivia
It's also known as "The Jewel of Morro Bay".
Ad blocker interference detected!
Wikia is a free-to-use site that makes money from advertising. We have a modified experience for viewers using ad blockers

Wikia is not accessible if you've made further modifications. Remove the custom ad blocker rule(s) and the page will load as expected.