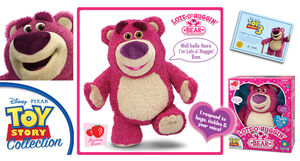 A Lots-o'-Huggin' Bear replica produced by Thinkway Toys was released in spring 2010 as part of the second wave of the "Toy Story Collection" line.
Description
From Thinkway Toys:
Soft, huggable and strawberry scented!
He loves when you give him a hug and he reacts!
Lotso responds to your voice and even knows if you're talking loudly or softly.
Press left paw for "Live Lotso" phrases and he responds to your voice in talk back mode.
Press his right paw for "Toy Lotso" phrases.
Tickle his left or right foot to make Lotso laugh.
Includes a Toy Story Collection Certificate of Authenticity.
Ad blocker interference detected!
Wikia is a free-to-use site that makes money from advertising. We have a modified experience for viewers using ad blockers

Wikia is not accessible if you've made further modifications. Remove the custom ad blocker rule(s) and the page will load as expected.