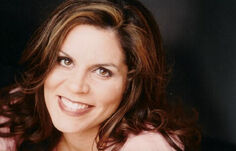 Lori Alan (born July 18, 1966) performed the voice of Mrs. Anderson in Toy Story 3 and Toy Story Toons. She has also voiced Tae-Kwon Doe in Small Fry. She is also known for the voice of Pearl the Whale, Mr. Krabs' daughter in SpongeBob SquarePants, and Diane Simmons in Family Guy. She also had an additional voice in the Cars Toons episodes Air Mater and Time Travel Mater. She also voiced the MU Bus Driver in Monsters University. Her next role will be as Riley's mother's Sadness emotion.
Ad blocker interference detected!
Wikia is a free-to-use site that makes money from advertising. We have a modified experience for viewers using ad blockers

Wikia is not accessible if you've made further modifications. Remove the custom ad blocker rule(s) and the page will load as expected.