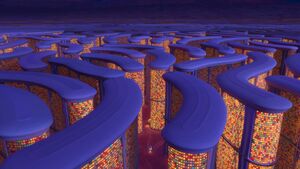 Long Term Memory is a location in Inside Out inside Riley's mind. It takes the majority of the mind's area and consists of a maze of thousands of banks of stored memories. It communicates with Headquarters, the site of memory production, via numerous vacuum tubes. It is maintained by the Forgetters, Mind Workers who remove faded memories and send them to the Memory Dump.
Ad blocker interference detected!
Wikia is a free-to-use site that makes money from advertising. We have a modified experience for viewers using ad blockers

Wikia is not accessible if you've made further modifications. Remove the custom ad blocker rule(s) and the page will load as expected.