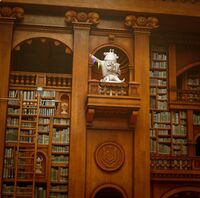 The Library is a location in Monsters University.
Monsters University
It is where an event of the Scare Games was held. In the event, the teams are not supposed to be caught by the Librarian.
Layout
It is a two-story, rectangle shaped building with tables on the inner part of the building, and bookshelves on the outskirts of the building. It has a balcony with a statue of Arthur Clawson on it.