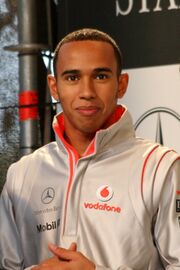 Lewis Hamilton (born January 7, 1985) is a British Formula One racing driver from England, currently racing for the Mercedes AMG team. He is the 2008, 2014, 2015 and 2017 Formula One World Champion. He performed the voice of a car named after himself in Cars 2, and voiced Hamilton in Cars 3.[1][2]
Trivia
Lewis Hamilton also performed the voice of his character in some international versions of Cars 2, like the Spanish and German releases.[3][4]
In a Cars 2 TV spot, Hamilton votes Mater as his favorite Cars character.
In the podium interviews at the 2017 British Grand Prix, Hamilton confessed to Owen Wilson about his own hopes to be in Cars 4.[5]
References