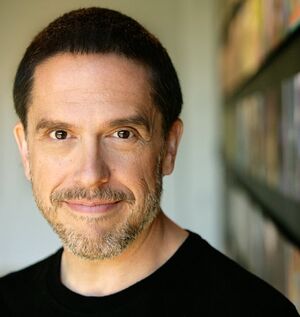 Lee Unkrich (born in Cleveland, Ohio, USA, August 8, 1967) is a director, editor, and voice actor at Pixar Animation Studios.
Biography
Unkrich came to Pixar on a temporary assignment during the development of Toy Story and he hasn't left since. He was the director of Toy Story 3, for which he won an Oscar and a BAFTA for Best Animated Feature.
Unkrich also did the voice of the Red Rocker in Toy Story 2 and the voice of the Jack-in-the-Box and the muffling sounds of the Monkey in Toy Story 3.
Personal Life
Unkrich has three children: Max, age 7, Alice, age 12, and Hannah, age 15. He lives with them and his wife Laura in Kentfield, Marin County, California.
He is also a self-confessed fan of Apple Inc.. He often attends the Apple events which are held several times a year.
Filmography
Director
Editorial
Film Editor
Animator
Other
External links
References
↑ "Cine-Explore" (supplementary material on Blu-Ray disc release of Toy Story 3). 2010. Blu-Ray disc. Walt Disney Home Entertainment, 2010.
Ad blocker interference detected!
Wikia is a free-to-use site that makes money from advertising. We have a modified experience for viewers using ad blockers

Wikia is not accessible if you've made further modifications. Remove the custom ad blocker rule(s) and the page will load as expected.