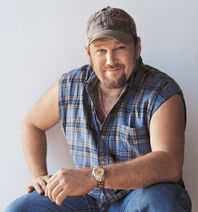 Larry the Cable Guy (born Daniel Lawrence Whitney on February 17, 1963) is an American stand-up comedian, actor, voice artist, country music artist and former radio personality who performed the voice of Mater in Cars, Mater and the Ghostlight, Cars Toons, and Cars 2. He even voiced him in the Cars video games.
He had also stated in an interview that he hoped for a Cars 3 to be made,[1] and after it was confirmed, he revealed that he will reprise his role.[2]
References
External Links
Ad blocker interference detected!
Wikia is a free-to-use site that makes money from advertising. We have a modified experience for viewers using ad blockers

Wikia is not accessible if you've made further modifications. Remove the custom ad blocker rule(s) and the page will load as expected.