In 2009-2010, the LEGO company liscenced to make sets based off of the Toy Story franchise. 11 sets were made with regular LEGO bricks, and 4 sets were made with larger Duplo Bricks.
Sets
Toy Story sets were first released in the end of 2009 to 2010, and a second wave was released in the spring to promote Toy Story 3.
Wave 1
Wave 2
Characters
Minifigures in this line included:
Other Toys
Duplo
Sets
5657 Jessie's Roundup
5658 Pizza Planet Truck
5659 The Great Train Chase
5691 Alien Space Crane
Characters
Commercials
This is the Lego Toy Story commercial for Woody and Buzz to the Rescue and Buzz's Star Command Spaceship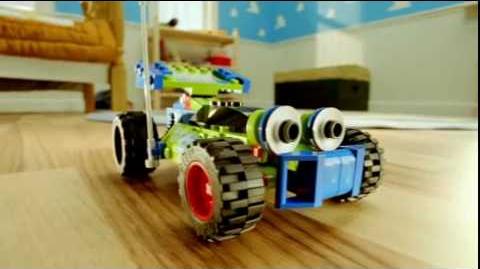 This is the Lego Toy Story Commercial for Western Train Chase
This is the Lego Duplo Toy Story Commercial
Ad blocker interference detected!
Wikia is a free-to-use site that makes money from advertising. We have a modified experience for viewers using ad blockers

Wikia is not accessible if you've made further modifications. Remove the custom ad blocker rule(s) and the page will load as expected.