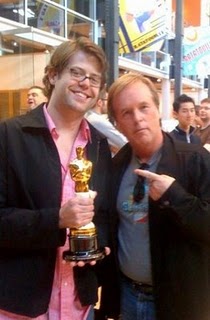 Justin Wright (1981-2008) was a story artist for Pixar. Some of his work included the end credits of Ratatouille, WALL•E and the short film Presto.
Wright was born with many heart complications and required a heart transplant surgery when he was 12. His doctor knew people at Pixar, so once Justin had recovered from surgery he brought him for a tour of the studio.[1] From then on it was Justin's dream to be a storyboard artist for the studio. He worked for a short while as a production assistant but quit to hold out for the job he really wanted. He realized his dream when he was offered an internship that turned into a full-time job.
Wright worked in the story department at Pixar for only a year before passing away on March 18, 2008 from a heart attack. He was only 27. WALL•E was dedicated to him.
Filmography
Animator
Production Assistant
Story Artist
Resources
External links
Ad blocker interference detected!
Wikia is a free-to-use site that makes money from advertising. We have a modified experience for viewers using ad blockers

Wikia is not accessible if you've made further modifications. Remove the custom ad blocker rule(s) and the page will load as expected.