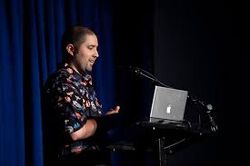 Joshua "Josh" Cooley is a story artist and director at Pixar Animation Studios. He served as a storyboard artist for The Incredibles, Cars, Ratatouille, Up, and Cars 2, and served as an additional story supervisor on Cars 2. He wrote and directed the short film, George and A.J., and also was the story editor of the Toy Story Toons short, Small Fry. He is now the solo director of Toy Story 4. He performed the voice of Omega in Up, Roger in the Cars Toons: Mater's Tall Tales short, Moon Mater, the cashier and Lizard Wizard in Small Fry, Jangles the Clown in Inside Out, and Vroomaroundus Bugus in the Cars Toons: Tales from Radiator Springs short, Bugged. He also voiced Officer Phillips in Toy Story of Terror!.
Ad blocker interference detected!
Wikia is a free-to-use site that makes money from advertising. We have a modified experience for viewers using ad blockers

Wikia is not accessible if you've made further modifications. Remove the custom ad blocker rule(s) and the page will load as expected.