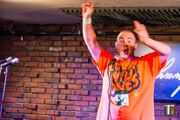 Jordan "Jordy" Ranft (born December 24th, 1991) is an Actor and Poet who is the son of the late Pixar Storyman Joe Ranft. He performed the voice of Tad in Finding Nemo while his father provided the voice of Jacques in the movie. He also provided the voice of one of the Ant Boys in A Bug's Life while his father voiced Heimlich in the movie. Tragically, his father died in a car accident on August 16th, 2005 when he was only 13 1/2 years old. Jordy also has a sister Sophia who has provided the voice of one of the monster children in Monsters, Inc.  
Ad blocker interference detected!
Wikia is a free-to-use site that makes money from advertising. We have a modified experience for viewers using ad blockers

Wikia is not accessible if you've made further modifications. Remove the custom ad blocker rule(s) and the page will load as expected.