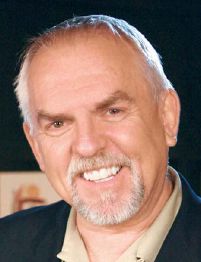 John Ratzenberger
(born April 6, 1947) is an American actor, voice actor, and entrepreneur who has performed the voice of at least one character in every feature-length
Pixar
film to date.
He is, however, probably most famous for his Emmy-nominated role as Cliff Clavin on the TV show Cheers. Besides voicing a character in all Pixar films, he is also a team member of the Pixar Softball Team. Ratzenberger also hosted the documentary film Pixar: 20 Years of Animation and Counting. He said in an interview that out of all the characters he has voiced for Pixar, P.T. Flea from A Bug's Life is his favorite one that he's done. Ratzenberger was married to Georgia Stiny from 1984-2004 (divorced) by whom he has two children: a son named James John Ratzenberger born in 1987 and a daughter named Nina Katherine Ratzenberger born in 1989.
On November 6, 2012, John Ratzenberger married his girlfriend Julie Blichfeldt.
Film roles
Trivia
Gallery
Ad blocker interference detected!
Wikia is a free-to-use site that makes money from advertising. We have a modified experience for viewers using ad blockers

Wikia is not accessible if you've made further modifications. Remove the custom ad blocker rule(s) and the page will load as expected.