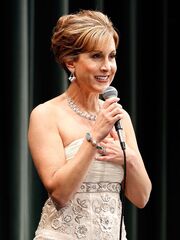 Jodi Benson (born October 10, 1961) is an American voice actress, actress, and singer who is best known for performing the voice of Ariel in Disney's The Little Mermaid movie trilogy and TV series. She performed the voice of Tour Guide Barbie and the Barbie on Amy's backpack in Toy Story 2. In Toy Story 3, she voices Molly's Barbie doll.
Benson has been married to her husband Ray since 1984, and together they have two children: a son named McKinley born in 1999, and a daughter named Delaney born in 2001. They live in Georgia.
Ad blocker interference detected!
Wikia is a free-to-use site that makes money from advertising. We have a modified experience for viewers using ad blockers

Wikia is not accessible if you've made further modifications. Remove the custom ad blocker rule(s) and the page will load as expected.