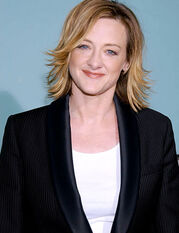 Joan Cusack (born October 11, 1962) is an American actress and comedienne who performed the voice of Jessie in Toy Story 2. She reprised the role in Toy Story 3 , Toy Story Toons (except for Partysaurus Rex), Toy Story of Terror and Toy Story That Time Forgot.
Trivia
She and Timothy Dalton, the voice of Mr. Pricklepants, were also in the film Looney Tunes: Back In Action together.
Ad blocker interference detected!
Wikia is a free-to-use site that makes money from advertising. We have a modified experience for viewers using ad blockers

Wikia is not accessible if you've made further modifications. Remove the custom ad blocker rule(s) and the page will load as expected.