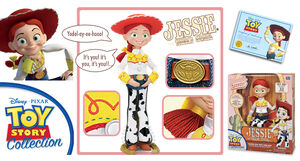 A Jessie replica produced by Thinkway Toys was released in spring 2010 as part of the second wave of the "Toy Story Collection" line.
Description
From Thinkway Toys:
Highly detailed film replica created from Disney/Pixar's digital data.
Pull string for "Jessie Toy" phrases and yodeling.
Talk to Jessie and she'll respond with "Andy's Room Jessie" phrases.
Jessie responds to the tone of your voice and knows if you're shouting or talking softly.
BONUS: Horseshoe shaped display stand.
Includes a Toy Story Collection Certificate of Authenticity.
Inaccuracies
Her braid is too thick.
Her waist is bigger than in the movies.
Her eyebrows are red instead of brown.
Ad blocker interference detected!
Wikia is a free-to-use site that makes money from advertising. We have a modified experience for viewers using ad blockers

Wikia is not accessible if you've made further modifications. Remove the custom ad blocker rule(s) and the page will load as expected.