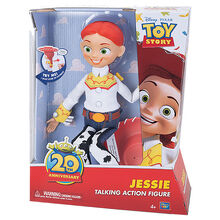 A Jessie replica produced by Thinkway Toys was released in 2015 as part of the Toy Story 20th Anniversary Thinkway Toys Line.
Description
Pull the string on her back and Jessie talks.
Jessie has a soft rag doll body with sculpted head, hands, boots, belt and hat.
Makes the perfect companion to the Sheriff Woody and Buzz Lightyear Talking Action Figures (available separately).
Trivia
Jessie is currently the ONLY Toy Story character not introduced in the first film to be in this collection.
Inaccuracies
Her hair is plastic instead of yarn.
Her waist is way bigger than in the movies.
The yellow and red design on the top of her shirt is shorter.
The pull string is very big.
Her eyebrows are red instead of brown.
Ad blocker interference detected!
Wikia is a free-to-use site that makes money from advertising. We have a modified experience for viewers using ad blockers

Wikia is not accessible if you've made further modifications. Remove the custom ad blocker rule(s) and the page will load as expected.