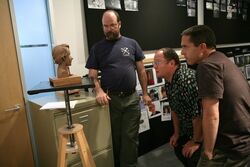 Jerome E. Ranft (born November 23, 1966) is a character sculptor for Pixar Animation Studios. He is the younger brother of the late Pixar story artist Joe Ranft. He joined Pixar in 1997 working as a character sculptor on the short film Geri's Game (1997) and later on Pixar's second movie A Bug's Life (1998), Toy Story 2 (1999), Monsters, Inc. (2001), Finding Nemo (2003), Cars (2006), Ratatouille (2007), Toy Story 3 (2010), and Brave (2012). He stated in an interview that he doesn't fall in love with just one sculpture he made but all of them and that for the character of Sulley he created over 30 sculptures of the character. He also provided the voice of the character Gamma in Up (2009) and the short film Dug's Special Mission and Red in Cars Toons: Tales from Radiator Springs, as well as the voice of the Mover in Henry Selick's Coraline. He will voice Jacques in the 2016 sequel Finding Dory, replacing his deceased brother Joe who voiced the character in Finding Nemo. Jerome lost his brother in a car accident on August 16, 2005. Before joining Pixar, Jerome served as a character sculptor for Disney's James and the Giant Peach (1996).
Ad blocker interference detected!
Wikia is a free-to-use site that makes money from advertising. We have a modified experience for viewers using ad blockers

Wikia is not accessible if you've made further modifications. Remove the custom ad blocker rule(s) and the page will load as expected.