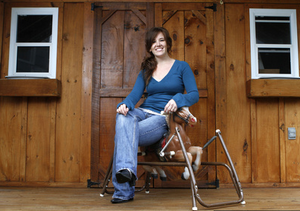 Jamie Metzger is a new staff member at Pixar Animation Studios.[1][2]
Metzger graduated from the animation program at Sheridan College in April 2011. "Eight years of school, about $53,000 in tuition, 56 teachers, and no social life, and it all equals Pixar", she says of her path to the studio, but she adds that it will be worth it.
Metzger finally started work at Pixar as an animation intern from June to August 2011. She is now working in Animation instruction and implementation.[3]
References
Ad blocker interference detected!
Wikia is a free-to-use site that makes money from advertising. We have a modified experience for viewers using ad blockers

Wikia is not accessible if you've made further modifications. Remove the custom ad blocker rule(s) and the page will load as expected.