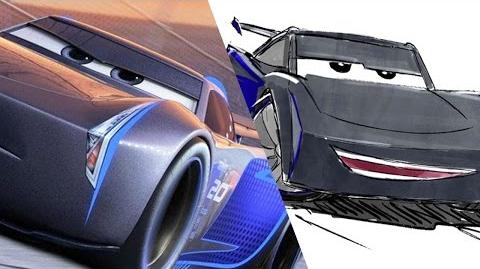 Jackson Storm is a character who is set to appear as the main antagonist in the upcoming film Cars 3. He will be Lightning McQueen's rival in the film. He is the poster child of a new generation of high-tech racers. He believes that he represents the future of racing, and therefore has little regard for the older race car generations.[1] His racing number is 20, stylized as 2.0, and his main sponsor is IGNTR.
Official Bio
"Jackson Storm is fast, sleek and ready to race. A frontrunner in the next generation of racers, Storm's quiet confidence and cocky demeanor are off-putting—but his unmatched speed threatens to redefine the sport. Trained on high-tech simulators that are programmed to perfect technique and maximize velocity, Jackson Storm is literally built to be unbeatable—and he knows it."[2]
Specifications
Vehicle type: 2017 Custom-built "Next-Gen" Piston Cup Racer[1]
Top Speed: 214 mph
0-60 mph: 3.6 seconds
Engine Type: Maximum Performance V-8
Horsepower: 850 hp
Chassis: Hydroformed alloy & steel
Body: Carbon fiber & metal composite
Gallery
Trivia
His actor was born the same year Pixar was founded.
References
Ad blocker interference detected!
Wikia is a free-to-use site that makes money from advertising. We have a modified experience for viewers using ad blockers

Wikia is not accessible if you've made further modifications. Remove the custom ad blocker rule(s) and the page will load as expected.