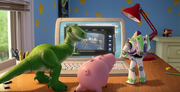 "International Space Station" is the second episode of Buzz Lightyear: Mission Logs. It was released on the 2010 Blu-ray and DVD release of Toy Story 2.
Story
Buzz continues to tell Rex and Hamm about his adventure in space. During this, Rex and Hamm compare real astronaut suits to Buzz's.
Cast
Trivia
This short was released on the 2010 Blu-ray and DVD of Toy Story 2, and features Randy Newman's music from the film.
The drawing of Woody from the previous episode is behind Buzz, Hamm and Rex again.
At the beginning, Hamm says "Talking about falling with style." This is how Woody described Buzz's flying in the first Toy Story movie.
The short closes with the music score heard at the climax of the original Toy Story Movie.
The voices actors are not credited.
Goofs
The video Buzz, Hamm and Rex are watching on the NASA site says "Buzz Lightyear Returns from Outer Space". That was the story behind the next episode.
Home Media
Toy Story 2 Blu-ray combo pack released March 23, 2010
Toy Story 2 special edition DVD released May 11, 2010
Ad blocker interference detected!
Wikia is a free-to-use site that makes money from advertising. We have a modified experience for viewers using ad blockers

Wikia is not accessible if you've made further modifications. Remove the custom ad blocker rule(s) and the page will load as expected.