Mater: "I never did get your name."
Holley Shiftwell: "Oh, yes, sorry. It's Shiftwell. Holley Shiftwell."
—Holley introducing herself to Mater
Holley Shiftwell is a supporting character in Cars 2.
Cars 2
Holley is a beautiful young British desk agent turned spy-in-training who is stationed in Tokyo. Well-educated and sharp, she knows every trick in the book (or rather, she relies on every trick in the spy manual). She is armed with all of the latest state-of-the-art spy equipment imaginable, from hidden cameras and concealed weapons to a telescoping utility arm and a holographic pop-up display. Holley is a highly motivated agent, but is fresh out of the academy, so her experience is based on lessons learned in school rather than real-life situations. When Finn McMissile requires Holley's technical expertise for his latest top-secret field operation, she finds herself pursuing a rendezvous with the most unlikely candidate -- Mater, an innocent tow truck caught up in the intrigue, who is mesmerized by the beauty of his newest friend.[1]
At the end at the movie, she says she is Mater's girlfriend and says to Mater that he still owes her a first date.
Specifications[2]
Top Speed: 160 mph
0-60 mph: 5.5 seconds
Engine Type: 3.5-liter turbocharged V6
Horsepower: 275
Hometown: London, England
Weaponry and Gadgets
As a spy, Holley Shiftwell is equipped with gadgets including:
On-board computer: Holley is equipped with a computer that can analyze spy data. It projects a hologram heads-up display as a screen and dual trackball platforms as a mouse.
Projection lamps: Located above her headlights, they emit the hologram heads-up display.
Dual mounted trackball platforms: Retract in the undercarriage and used to control the heads-up display, with the wheels, in the way a mouse controls a computer.
Headlight cameras: Invisible, they transmit an image to Holley's on-board computer that can then be analyzed.
Digital read-outs: Located on the side mirror, the screen can receive transmissions from other spies or view a map of the environment.
Flight Afterburners: Located in the rear deck exhaust. Enables Holley to fly at fast speeds.
Retractable Wings: Located on both sides and her rear deck. They assist her to steer while she is in flight.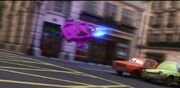 Holley's front wheels are equipped with several gadgets:
Concealed guns: One in each front wheel.
Electroshock device: A taser-like weapon. Holley uses it to neutralize cars without damaging them.
Telescoping utility arm: A small screwdriver-like arm that permits Holley to more precisely use the buttons of a control panel and hold small devices.
Trivia
Holley's name is a reference to Holley Performance Products, Inc., a manufacturer of high-performance carburetors and fuel systems located in Bowling Green, KY.
Her design has a close resemblance to the Jaguar XJR-15.
Her license plate is HS1201, which includes her initials. The number 1201 is Emily Mortimer's birthday (December 1st).
In some LEGO Cars 2 sets, it includes Holley. However, that version of her is a little bit more pink.
Quotes
Holley Shiftwell: "This cannot be him."
Finn McMissile: "Is he American?"
Mater: "Look out, ladies! Mater's fittin' to get funky!"
Holley Shiftwell: "Extremely."
Finn McMissile: "Then it's him."
Holley Shiftwell: (drives over to Mater) "Hello."
Mater: "Well, hello."
Holley Shiftwell: "A Volkswagen Karmann Ghia has no radiator."
Mater: "Well, of course it doesn't. That's 'cause it's air-cooled."
Holley Shiftwell: "Perfect. Erm...I'm from the Tokyo Station."
Mater: "'Course, Karmann Ghias weren't the only ones. Besides the Beetles, you had your Type 3 Squarebacks with the Pancake motors."
Holley Shiftwell: "Yeah, OK. I get it."
Mater: "And before both of them there's the Type 2 buses. My buddy Fillmore's one of them."
Holley Shiftwell: "Listen! Erm... We should find somewhere more private."
Mater: "Uh... Gee, don't you think that's a little. . .?"
Holley Shiftwell: "Yeah, you're right. Impossible to know which areas here are compromised. So, when can I see you again?"
Mater: "Well, let's see. Tomorrow I'll be out there at the races."
Holley Shiftwell: "Got it. We'll rendezvous then."
—Holley mistakes Mater for an American spy.
Alexander Hugo: "Gremlins. Man, those are some ugly cars. Look like someone stole their trunks!"
(Alex, Ivan, and the other black Hugos laugh)
Holley Shiftwell: (in an Italian accent, speaking Italian) "My grand-a father has-a broken down. If-a one of-a you would help, I would be so thankful."
Ivan: "Sounds like you need some roadside assistance."
Alexander Hugo: "She was talking to me, Ivan."
Ivan: "Oh, really? Prove it!" (hits Alexander Hugo)
Holley Shiftwell: (still Italian accent) "No, no, no! Don't-a fight over me. Signore Tow Truck, per favore."
—Alexander Hugo, Ivan, and the other black Hugos meet Holley, who they don't know is a spy.
Finn McMissile: "Holley!"
Holley Shiftwell: "I'm detecting an extremely strong electromagnetic pulse." (sees the lemons' camera on top of the building) "Finn, it's the camera!"
Finn McMissile: "Where?"
Holley Shiftwell: "On the tower!"
(Finn rushes to stop the lemons.)
—Finn and Holley find the lemons' camera.
Gallery
Concept Art
Merchandise
Videos
References
Ad blocker interference detected!
Wikia is a free-to-use site that makes money from advertising. We have a modified experience for viewers using ad blockers

Wikia is not accessible if you've made further modifications. Remove the custom ad blocker rule(s) and the page will load as expected.