Harvey Rodcap is a character in Cars 3.
Cars 3
Harvey is the next-generation Easy Idle racer and one of the six next-generation racers to debut at the Motor Speedway of the South. He replaces an unnamed veteran racer who gets fired.
Notes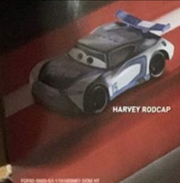 This character's name was revealed on the box of a Dot.com diecast 10-pack.
Ad blocker interference detected!
Wikia is a free-to-use site that makes money from advertising. We have a modified experience for viewers using ad blockers

Wikia is not accessible if you've made further modifications. Remove the custom ad blocker rule(s) and the page will load as expected.