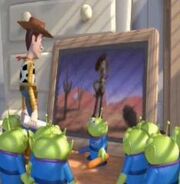 Good Start is one of the Toy Story Treats that aired on ABC's Saturday morning line-up in 1996.
Plot
Woody teaches the Aliens how to make drawings on the chalkboard, starting with a crudely drawn alien, telling them that it takes a little practice. The aliens then quickly draw a full color portrait of Woody over his alien drawing and Woody says, "That's good... that's a good start."
Video
Ad blocker interference detected!
Wikia is a free-to-use site that makes money from advertising. We have a modified experience for viewers using ad blockers

Wikia is not accessible if you've made further modifications. Remove the custom ad blocker rule(s) and the page will load as expected.