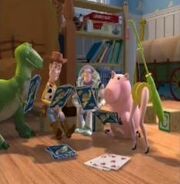 Go Fish is one of the Toy Story Treats that aired on ABC's Saturday morning line-up in 1996.
Plot
Woody, Buzz, Rex, and Hamm are playing a game of Go Fish with Legs. Woody tells Legs to "Go Fish!" and Legs starts fishing for one of the cards with her hook. Woody then whispers to us, "She lives for this!"
Trivia
This is the second time that Woody breaks the fourth wall to the viewers.
This is also the only time where Legs appears in Andy's House.
Video