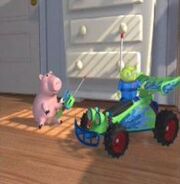 Give it a Spin is one of the Toy Story Treats that aired on ABC's Saturday morning line-up in 1996.
Plot
Hamm tries to sell RC to one of the Aliens saying that he has "extremely low-mileage". After Hamm quickly drives him around the room with the remote, the Alien says, "I'll take it!"
Ad blocker interference detected!
Wikia is a free-to-use site that makes money from advertising. We have a modified experience for viewers using ad blockers

Wikia is not accessible if you've made further modifications. Remove the custom ad blocker rule(s) and the page will load as expected.