Ad blocker interference detected!
Wikia is a free-to-use site that makes money from advertising. We have a modified experience for viewers using ad blockers

Wikia is not accessible if you've made further modifications. Remove the custom ad blocker rule(s) and the page will load as expected.
Fun Meal Buzz Lightyear (a.k.a. Mini Buzz) is the main antagonist of the Toy Story Toon, Small Fry. He is one of the fun meal toys to be given out at Poultry Palace along with miniature Fun Meal Zurgs, Belt Buckles, Zurg Combs, Buzz's Ships, Space Carabiners and Wrist Missiles.
Small Fry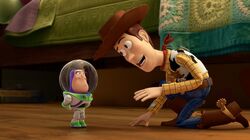 He is first seen with the Fun Meal Zurg when he talks about being played with. He then ambushes Bonnie's Buzz and replaces him with himself in the ball pit. Bonnie takes Fun Meal Buzz and Rex home. Fun Meal Buzz managed to convince Rex that the plastic in the ball pit made him shrink. When they get Bonnie's room, the toys know this is not the real Buzz (except a gullible Rex). As Fun Meal Buzz skates around the room, eagerly awaiting playtime, Woody tries talking to him but the little toy snatched his hat and slapped Hamm in the rear before he is tackled. The toys tie Fun Meal Buzz to a glue bottle until the real Buzz finally escapes the restaurant and returns to Bonnie's room. In the end, real Buzz takes him back to the Poultry Palace, where Mini-Buzz joins the support group for Discarded Fun Meal toys and becomes his "sponsor."
Trivia
Fun Meal Buzz Lightyear is the fourth main Toy Story antagonist to be a toy, after Stinky Pete, the main antagonist of Toy Story 2; Emperor Zurg, the tertiary antagonist of Toy Story 2 and the main antagonist of Buzz Lightyear of Star Command and its movie; and Lots-o'-Huggin' Bear, the main antagonist of Toy Story 3.
He is also the first Buzz Lightyear incarnation to be fully aware from the start that he is in fact a toy. All other Buzz incarnations usually believe themselves to truly be space rangers instead of simply toys at first.

Andy's and later Bonnie's Buzz in both the first Toy Story movie and Toy Story 3 (after being reset by Lotso); and Utility Belt Buzz, another antagonist in Toy Story 2, both share this delusion.

He is also the second Buzz incarnation to replace Andy's and later Bonnie's Buzz Lightyear at one point (the first being Utility Belt Buzz).
Woody estimated Fun Meal Buzz Lightyear to be about three inches tall.
See Also