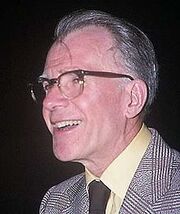 Frank Thomas (September 5, 1912 - September 8, 2004) was a Disney animator, and one of Disney's Nine Old Men, who worked on such films as Pinocchio, Bambi, Peter Pan, The Jungle Book, and countless others. He had a short cameo in The Incredibles along with friend and long-time collaborator Ollie Johnston, providing the voice of Frank and Ollie, animated caricatures of the pair.
Ad blocker interference detected!
Wikia is a free-to-use site that makes money from advertising. We have a modified experience for viewers using ad blockers

Wikia is not accessible if you've made further modifications. Remove the custom ad blocker rule(s) and the page will load as expected.