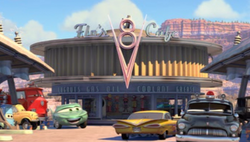 Flo's V8 Cafe is a car cafe for drinking oil and gas in Radiator Springs in the movies Cars and Cars 2. It also appears in numerous video games. Most residents of Radiator Springs visit there for a drink once in a while.
Flo's V8 cafe is designed to look like a V8 engine head on, with a circular air filter, tappet covers, spark plugs, pistons and connecting rods as the supports for the shelter. The blinking neon lights on the spark plugs blink in the firing order of a Ford flathead V8.
Inspiration
It was inspired by the Midpoint Cafe on Route 66 in Adrian, Texas.
Ad blocker interference detected!
Wikia is a free-to-use site that makes money from advertising. We have a modified experience for viewers using ad blockers

Wikia is not accessible if you've made further modifications. Remove the custom ad blocker rule(s) and the page will load as expected.