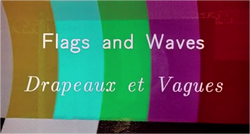 Flags and Waves is a short animation test created by Bill Reeves and Alain Fournier in 1986, used to recreate various real world qualities in computer animation. It first shows some waving flags, then moves the camera up to reveal waves crashing onto a beach.
Gallery
Ad blocker interference detected!
Wikia is a free-to-use site that makes money from advertising. We have a modified experience for viewers using ad blockers

Wikia is not accessible if you've made further modifications. Remove the custom ad blocker rule(s) and the page will load as expected.