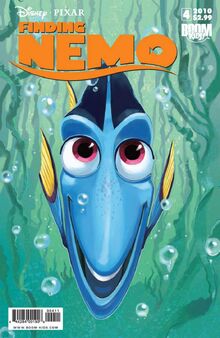 Finding Nemo: Losing Dory is a comic book series based on the Finding Nemo movies. It is one of Pixar's four issue comic book series in their deal with Boom! Studios and was published in 2010.
Setting
Dory is taken from the reef and only her friends can save her.
Characters
Stories
Losing Dory 1-4
Ad blocker interference detected!
Wikia is a free-to-use site that makes money from advertising. We have a modified experience for viewers using ad blockers

Wikia is not accessible if you've made further modifications. Remove the custom ad blocker rule(s) and the page will load as expected.