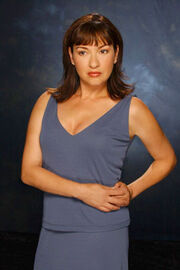 Elizabeth Peña (September 23, 1959 – October 14, 2014) performed the voice of Mirage in The Incredibles. She passed away on October 14, 2014, from natural causes after a brief illness.
Trivia
Prior to The Incredibles, Peña worked with Brad Bird in *batteries not included, where she played Marisa.
Even though Peña was a native Spanish speaker, another actress voiced Mirage in the Spanish release of The Incredibles.
Ad blocker interference detected!
Wikia is a free-to-use site that makes money from advertising. We have a modified experience for viewers using ad blockers

Wikia is not accessible if you've made further modifications. Remove the custom ad blocker rule(s) and the page will load as expected.