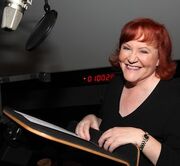 Edie McClurg was born on July 23rd 1951. She is an American actress who performed the voice of Dr. Flora in A Bug's Life, and Minny in Cars and Cars 2. She is also famous for voicing Charlotta the Maid in Disney's The Little Mermaid (1989) and The Little Mermaid II: Return to the Sea (2001). She has also voiced the hospital nurse in The Rugrats Movie (1998) and Miss Right in The Secret of NIMH (1982). She is probably known by movie fans as Grace the secretary in the 1986 comedy Ferris Bueller's Day Off starring Matthew Broderick, as well as the Digimon character Gatomon.
Ad blocker interference detected!
Wikia is a free-to-use site that makes money from advertising. We have a modified experience for viewers using ad blockers

Wikia is not accessible if you've made further modifications. Remove the custom ad blocker rule(s) and the page will load as expected.