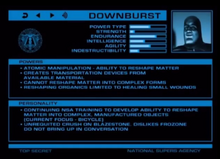 Downburst is a character in The Incredibles.
The Incredibles
Downburst was a superhero whose superpowers involved Atomic Manipulation, allowing him to reshape matter and heal minor wounds. He was initially a doctor when he discovered his ability to heal, later leaving to pursue a career in heroism. At the time of his NSA recording his powers were not fully developed, limiting him to creating basic objects and transportation. The agency therefore put him under continuous training to help enhance his powers. Due to his initial lack of training and development, Downburst had to fight to gain acceptance within the Super community, eventually gaining a place at their meetings.
He competed for the affections of the super-heroine Blazestone with Frozone. The Operation Kronos database assigned him a threat rating of 6.5. He defeated the Omnidroid v.X2 and was killed by the Omnidroid v.X3 during the training sessions for Operation Kronos.
Notes
In the movie, during Mr. Incredible's discovery of Operation Kronos, Downburst's file mistakenly listed his powers as being "Flight" and "Gaseous Expulsions", powers instead attributed to Stormicide. This is disproven by his NSA recordings and file.
Ad blocker interference detected!
Wikia is a free-to-use site that makes money from advertising. We have a modified experience for viewers using ad blockers

Wikia is not accessible if you've made further modifications. Remove the custom ad blocker rule(s) and the page will load as expected.