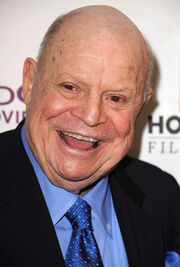 Donald Jay "Don" Rickles (May 8, 1926 – April 6, 2017) was an American stand-up comedian, actor, singer, author, voice artist, and comedian who performed the voice of Mr. Potato Head in the Toy Story franchise. He reprised his role in Toy Story 2, Toy Story 3, Toy Story Toons (except Small Fry), Toy Story of Terror!, and Toy Story That Time Forgot. He also reprised his role as Mr. Potato Head as an Interactive Audio-Animatronic at Toy Story Midway Mania!.
On April 6, 2017, he died at his home in Beverly Hills, California of kidney failure at the age of 90.
Trivia
Mr. Potato Head's line in Toy Story "What are you lookin' at, ya hockey puck?" is one of Rickles' catchphrases.
Rickles also starred in Martin Scorsese's film Casino, which was released on November 22, 1995 (the same day Toy Story was released).
He was expected to reprise his role as Mr. Potato Head in Toy Story 4 but died before recording any dialogue. It is uncertain how Mr. Potato Head's voice role will be handeled, as he is still confirmed to appear in the fourth film.