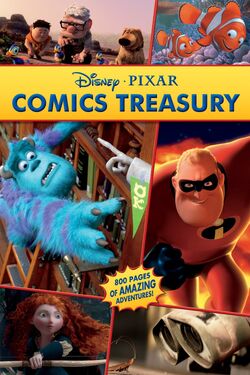 Disney-Pixar Comics Treasury is a softcover trade paperback published by Joe Books, collecting comic book adaptations of all the Pixar feature films up to Monsters University released between 1994 and 2014, as well as the first four issues of Boom! Studios' WALL•E comic book.
Contents
External links
Ad blocker interference detected!
Wikia is a free-to-use site that makes money from advertising. We have a modified experience for viewers using ad blockers

Wikia is not accessible if you've made further modifications. Remove the custom ad blocker rule(s) and the page will load as expected.