Ad blocker interference detected!
Wikia is a free-to-use site that makes money from advertising. We have a modified experience for viewers using ad blockers

Wikia is not accessible if you've made further modifications. Remove the custom ad blocker rule(s) and the page will load as expected.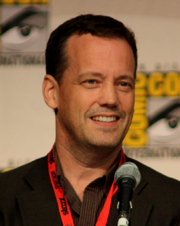 Dee Bradley Barker
is an American voice actor who is best known for his animal vocal effects. He has voiced characters like Remy Buxaplenty, Sanjay, Elmer, the Bronze Kneecap, and Binky Abdul in 
The Fairly OddParents
; Perry the Platypus in 
Phineas and Ferb
; Squilliam Fancyson in
SpongeBob SquarePants
; Numbuh 4, the Delightful Children from Down the Lane, and Heinrich von Marzipan in
Codename: Kids Next Door
; and Mooch from
G-Force
;
Kassius Konstantine and Old Jho from Star Wars Rebels
, among others. He was one of the additional voices in
Ratatouille
and 
Cars 2
. He also voiced
Mr. Jones
in
Toy Story of Terror!
.
Filmography
External Links