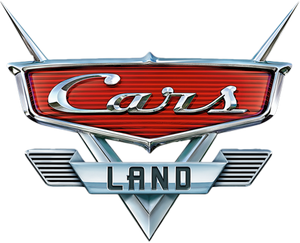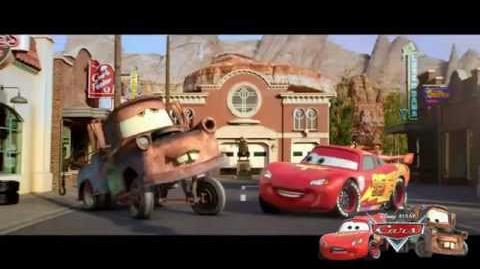 Cars Land is a new land at Disney California Adventure Park, that opened on June 15, 2012. Cars Land is one of the last pieces of the $1 billion expansion of California Adventure developed since 2007. John Lasseter, Principal Creative Advisor of Walt Disney Imagineering, is overseeing the project.
Cars Land features new dining and shopping venues as well as new attractions. One is a major "E-ticket" attraction called Radiator Springs Racers, which features the third-generation Test Track technology, an attraction located at Epcot in Walt Disney World. Two other family attractions were built; Luigi's Flying Tires and Tow Mater's Junkyard Jamboree. Luigi's Flying Tires is a ride system similar to the old Disneyland Flying Saucers attraction.
Attractions
Mater's Junkyard Jamboree
"Spin and tow-si-tow as baby tractors pull you along to the most swingin' tunes in Radiator Springs!"[1]
Luigi's Flying Tires
"Float on air as you slide and glide on the world's first and finest flying tire!"[2]
On February 17, 2015, the ride was closed down and replaced by "Luigi's Rollickin' Roadsters," which will open on March 7, 2016.[3][4]
"Got the need for speed? Gear up and go ka-chow! Only one car will win this race!"[5]
The entrance to the line for the ride is right of the Courthouse. While waiting in line, the guests go through the old town at Stanley's Oasis. After waiting in line, the guests get into their vehicle, and they go through Ornament Valley. They pass the waterfall near the Wheel Well. After, that they go into a darken tunnel. In the tunnel, you will hear Minny say, "Van, are we lost again?" After that, you will swerve around Mack, Van, and Minny. Then, the car will cross train tracks right before a train comes. Next, you'll meet Sheriff, who appears as if he's gonna give you a ticket, but he really is welcoming you to the big race. He asks Mater to come and take him to the race. However, before the race, Mater takes you tractor tipping. Suddenly, Frank wakes up and chases you into Radiator Springs. While there, Sally and Lightning will welcome you to the race, and either tell you to go to Luigi's Casa Della Tires for a tire change, or Ramone's House of Body Art for a new paint job. After that, you'll meet Doc, who tells you that he's your crew chief for the race. The racers will then line up at the starting line, and Luigi and Guido will start the race. The race goes outside the big inside area, around the Radiator Cap mountain, around Willy's Butte to the finish line. The vehicles will go into Tail Light Caverns, and Lightning and Mater will congratulate you on the race. That's when the ride ends.
Dining
"Chill out with a sup of my refreshing fuel, man. I've got a variety of all-natural, fruity flavors!"[6]
"Pull in for a pit-stop and recharge with some fuel-efficient, cone-themed snacks!"[7]
"Park in the shade, kick up your tires and grab some grub off the grill, baby!"[8]
Gift Shops
"This is the headquarters for genuine Radiator Springs gear! Outfit every member of your garage!"[9]
"Hey gearhead! Stop in, fill up your trunk and go back to your garage with something to remember us by![10]
"Roll in and get hooked up with fresh coats, new tops and other tricked-out gear!"[11]
Merchandise
The Music of Cars Land
A limited edition soundtrack album called "The Music of Cars Land" was released when Cars Land opened.
Route 66 (Chuck Berry)
Welcome to Radiator Springs (Joe Louis Walker)
Radiator Rock (Joe Louis Walker)
Mambo italiano (Rosemary Clooney)
Stop in the Name of Love" (The Supremes)
Riding in My Car (Car Car Song) (Woody Guthrie)
Low Rider (Espanol Fantasma Mix) (War)
Junkyard Jamboree (Larry the Cable Guy)
Big Bulldozer (Larry the Cable Guy)
Tow Mater (The One You Want to Call) (Larry the Cable Guy)
Mater's Square Dance (Larry the Cable Guy)
Let's Go Driving (Larry the Cable Guy)
Radiator Springs Racers: Attraction Ride Through
Characters
Every day, characters from Cars roam the streets of Cars land which attracts crowds of guests itching to get a picture with a character. Some characters include:
Either Lightning McQueen or Tow Mater will be stationed in front of the Cozy Cone motel office to take pictures with.
Red parks in the street right in front of the intersection to take pictures.
DJ can be found (usually at night) hosting a dance party by playing music.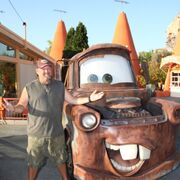 Cast Members are available to take pictures of your group with the Characters.
Die-Casts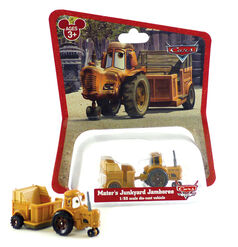 5 die-casts of characters from Cars Land were released.
Mater's Junkyard Jamboree (Baby Tractor)
Blue Radiator Springs Racer
Red Radiator Springs Racer
Green Radiator Springs Racer
Teal Radiator Springs Racer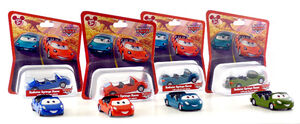 Trivia
Luigi's Flying Tires has 6,714 air vents that blow over 1.86 million cubic feet of air per minute.[12]
In November 2012, Cars Land was decorated with Christmas ornaments for Christmas. Those decorations included a snow-car at the entrance, a Christmas tree made out of cones at the Cozy Cone Motel, and even a new entrance sign.
The highest point in Oranment Valley stands at 125 feet, the Pinnacle.
The idea of Cars Land began as early as 2007, as artists at Pixar started talking to Chip Foose regarding the idea creating a Cars-themed attraction.[13]
Gallery
Concepts and Construction
Cars Take Flight
Cars Take Flight is a competition where people make videos of themselves saying their favorite Lightning McQueen or Mater's lines from the Cars Toons episodes Air Mater and Moon Mater to win a vacation to Cars Land.[14] The videos have to be under 30 seconds. The competition ended October 7, 2012.
References
External Links