"From this moment, everything will change."
—Tagline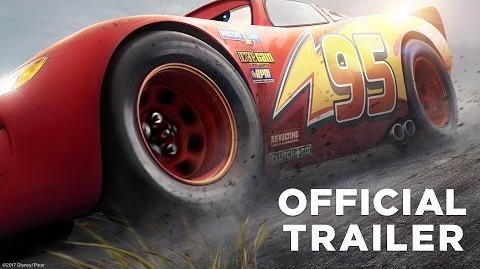 Cars 3 is an upcoming Pixar film, its eighteenth feature film, and the second sequel to the 2006 film Cars, scheduled to be released on June 16, 2017.[5] It will be directed by Brian Fee.[1] At the Disney stockholder meeting on March 18, 2014, Disney CEO Bob Iger first announced that Pixar had begun pre-production on Cars 3.[6][7]
Synopsis
| | | |
| --- | --- | --- |
| " | Blindsided by a new generation of blazing-fast racers, the legendary Lightning McQueen (voice of Owen Wilson) is suddenly pushed out of the sport he loves. To get back in the game, he will need the help of an eager young race technician, Cruz Ramirez, with her own plan to win, plus inspiration from the late Fabulous Hudson Hornet and a few unexpected turns. Proving that #95 isn't through yet will test the heart of a champion on Piston Cup Racing's biggest stage! | " |
In May 2016, Fee gave the first details regarding the plot: the film sees Lightning McQueen, now a veteran in the racing world, facing the rise of a new generation of race cars epitomized by Jackson Storm. Following a defeat to Storm, McQueen enlists the help of a new trainee, Cruz Ramirez, a sleek female race car, to prepare him for the the Florida 500, in the hope that he can give a game-changing performance. Fee elaborated: "Think of where he'd be in his career now in real time. [McQueen] is not an old man, but he's one of the older cars on the circuit with new rookies coming in. People start to wonder and ask when he might retire."[1]
Voice cast
Archive recordings of Paul Newman will be used for Doc Hudson in flashbacks.[19][20]
Production
It was previously assumed that Pixar would order a third film in the Cars franchise after the box office and merchandising success of Cars 2. On August 17, 2013, voice actor Michael Wallis told radio audiences that Cars 3 would take place on California's Route 99.[21] In October 2014, John Lasseter revealed at the Tokyo International Film Festival that the film will feature a tribute to Hayao Miyazaki's film The Castle of Cagliostro in a form of an old Citroën 2CV.[22][citation needed]
At the 2015 São Paulo Disney Expo, it was hinted that the film would be released in Brazil in 2018.[23] In an interview John Lasseter did with Autoweek on the occasion of Pixar's 2015 bi-annual Motorama car show, he gave a potential release date of summer 2018 or 2019.[24]
Randy Newman revealed during an interview with The Advertiser in the February of 2016 that he will be the film's composer.[4]
Lasseter later revealed on June 8, 2016, during an interview with Entertainment Weekly's Marc Snetiker, that Doc Hudson, a character from the first film who died before the second film, will be referenced several times in Cars 3.[25]
On November 21, 2016, the first teaser trailer for Cars 3 was released on the Pixar YouTube channel. An extended teaser aired January 9, 2017.[26]
A full trailer was released on April 26,[27][28] and a one-minute sneak peek was revealed at the Radio Disney Music Awards.[29]
A "Rivalry" tailer was released on May 10.[30]
A clip showing Cruz's command assistant Hamilton was released on Lewis Hamilton's social media accounts on May 25.[31][32][33]
Soundtrack
Along with score by Randy Newman, there will be rock and pop songs, including "Ride" by ZZ Ward and Gary Clark Jr.[34] The Original Motion Picture Soundtrack and Original Score Soundtrack will both be released on June 16, 2017.[35]
Attached Short Film
The short film Lou, directed by Dave Mullins, will be attached to the theatrical release of Cars 3.
Cars 3: Driven to Win
In January 2017, after it was reopened and bought by Warner Bros. Interactive Entertainment, Avalanche Software confirmed a game based on the film.[36] On April 5, 2017, the title of the game was revealed to be Cars 3: Driven to Win, and it will be released for PlayStation 3, Xbox 360, Wii U, PlayStation 4, Xbox One and Nintendo Switch in North America on June 13,[37][38] Australia on June 14,[39] and Europe on July 14.[40]
Gallery
Posters
Character Poses
Stills
Concept Art
Videos
References
↑ 10.00 10.01 10.02 10.03 10.04 10.05 10.06 10.07 10.08 10.09 10.10 10.11 Disney-Pixar 'Cars 3' Key Cast and Characters Roll Out
↑ 13.00 13.01 13.02 13.03 13.04 13.05 13.06 13.07 13.08 13.09 13.10 13.11 'Cars 3' gears up for season-long ride with NASCAR
↑

Channel 4 F1 coverage of the 2017 Russian Grand Prix.

↑ Disney Pixar Returns to NAIAS with Cars 3 – Interview with Jay Ward and Jay Shuster + Extended Look! #Cars3 #NAIAS #DetroitlovesAutos
↑ Cars 3 Soundtrack First Listen: ZZ Ward & Gary Clark Jr's Energetic Track, "Ride" and Dancing With The Stars Performance
↑ 'Cars 3' Receives an Impressive Two-Soundtrack Release (Covers, Originals & Score) [UPDATED Track-Listing & Pre-Order]
Ad blocker interference detected!
Wikia is a free-to-use site that makes money from advertising. We have a modified experience for viewers using ad blockers

Wikia is not accessible if you've made further modifications. Remove the custom ad blocker rule(s) and the page will load as expected.