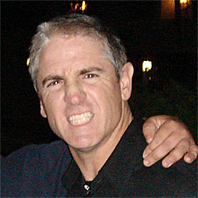 Carlos Alazraqui (born July 20, 1962) is an American stand-up comedian, actor, singer, impressionist, voice actor, producer and screenwriter who voiced many cartoons, like from Nickelodeon shows (his most famous role being Rocko from the Classic Nick series Rocko's Modern Life), a lot of family films from Warner Bros. and others. He performed the voice of Mike Wazowski in the Monsters, Inc. video game. He was also one of the additional voices in Toy Story 3 and performed the voice of Koala Kopter in Small Fry. He also voiced VN-GO in WALL•E, Loco in A Bug's Life, and Bill in Finding Nemo. He also played the role of El Chupacabra in the DisneyToon Studios film Planes.[1] He also voiced the Brazilian helicopter pilot in Inside Out and Riley's Father's Fear in Riley's First Date?.
References
Ad blocker interference detected!
Wikia is a free-to-use site that makes money from advertising. We have a modified experience for viewers using ad blockers

Wikia is not accessible if you've made further modifications. Remove the custom ad blocker rule(s) and the page will load as expected.