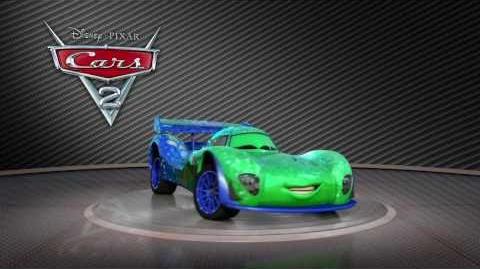 Darrell Cartrip: "There's smoke on the casino bridge!"
David Hobbscap: "Oh, no!"
Brent Mustangburger: "It's Carla Veloso, the Brazilian race car!"
—The announcers after Carla Veloso's engine gets blown up.
Carla Veloso is a character in Cars 2.
Cars 2
Carla hails from Rio de Janeiro, Brazil where she's been known to dance the night away at the famous 'CAR-nival' but nothing makes her happier than being on the racetrack. Carla was drafted into the 24-hour endurance racing team in Europe after setting a new track record on her local circuit. Now, in the World Grand Prix, this proud Brazilian Le Motor Prototype racer, wearing #8, is the only female in the field.
She is about the only female in the World Grand Prix. She is seen in all three races and also in the one at Radiator Springs. In the Tokyo race, she finishes in 3rd place. In the Italy race, she is the first car hit by the lemons' radiation beam. She gets fixed though and gets back up to race. In London, her pit was next to Jeff Gorvette's pit on the left. She has no lines in the film.
Specifications[1]
Hometown: Rio de Janeiro, Brazil
Zero – 60 mph: 2.8 seconds
Engine Type: 5.5-liter twin turbo diesel V-12
Horsepower: 725
Trivia
Gallery
Die-casts
References
↑ 'Cars 2′ Character Stats, New Tokyo Party Clip and New Still as Sophia Loren Joins International Cast
Ad blocker interference detected!
Wikia is a free-to-use site that makes money from advertising. We have a modified experience for viewers using ad blockers

Wikia is not accessible if you've made further modifications. Remove the custom ad blocker rule(s) and the page will load as expected.