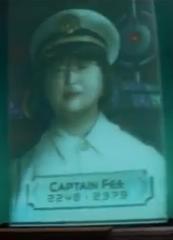 Captain Fee is a character in WALL•E.
WALL•E
Fee was the captain of the Axiom spaceship from 2248 to 2379 (131 years). After her death, Captain Thompson took over. Captain Fee also replaced Captain Reardon.
Trivia
The character is named after Brian Fee, a Pixar storyboard artist.
Captain Fee is also the only female captain of the Axiom.