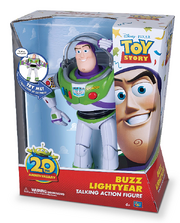 A Buzz Lightyear replica produced by Thinkway Toys will be released in 2015 as part of the Toy Story 20th Anniversary Thinkway Toys Line.
Description
Replicated from Disney/Pixar's digital data, this 20th Anniversary Edition Buzz Lightyear comes with original voice, pop-out wings, retractable helmet, laser light and sound effects!
Press Buzz Lightyear's oval chest buttons for voice and sound effects.
Press his arm button for light and laser sound effects.
Push his red round chest button to pop-out Wings.
Highly poseable figure with retractable helmet.
30 sayings in original voice.
Highly detailed figure approximately 12" tall.
Ages 4+.
Trivia
This Buzz Lightyear replica is similar to the Toy Story Collection Buzz Lightyear.
Ad blocker interference detected!
Wikia is a free-to-use site that makes money from advertising. We have a modified experience for viewers using ad blockers

Wikia is not accessible if you've made further modifications. Remove the custom ad blocker rule(s) and the page will load as expected.