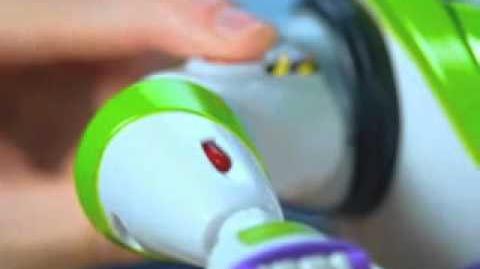 A Buzz Lightyear replica produced by Thinkway Toys was released in fall 2009 as part of the first wave of the "Toy Story Collection" line. A version of Buzz with the utility belt was also produced.
Description
From Thinkway Toys:
The one, the only, the original, most accurate Buzz Lightyear ever produced!
Highly detailed deluxe film replica from DISNEY/PIXAR's digital data.
Fully poseable including fingers, wrists, elbows, shoulders, waist, ankles, knees and legs!
Push his red oval chest button for classic "Buzz Toy" phrases.
Press the blue oval chest button and he responds as "Space Ranger Buzz"! He even knows if you're talking loudly and reacts.
Talk to Buzz and he'll respond to your voice in Talk Back Mode (green oval button for ON/OFF Talk Back feature).
Press his red chest button for pop-out wing action and light-up wing tips. Level sensor knows when Buzz is in a horizontal flying position or standing vertically and responds with flying and landing sound effects!
Press his arm button for laser light-up and sound effects.
Open or close his helmet or arm communicator and he reacts with related phrases and sound effects.
Soft rubber waist and glow-in-the-dark green trim.
Includes a Toy Story Collection Certificate of Authenticity.
Ad blocker interference detected!
Wikia is a free-to-use site that makes money from advertising. We have a modified experience for viewers using ad blockers

Wikia is not accessible if you've made further modifications. Remove the custom ad blocker rule(s) and the page will load as expected.