Ad blocker interference detected!
Wikia is a free-to-use site that makes money from advertising. We have a modified experience for viewers using ad blockers

Wikia is not accessible if you've made further modifications. Remove the custom ad blocker rule(s) and the page will load as expected.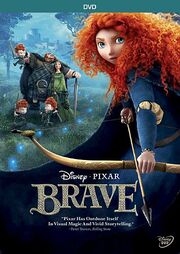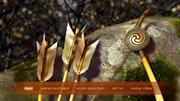 Brave was released on DVD, Blu-ray and 3D Blu-ray in the United States on November 13, 2012,[1] and in the United Kingdom on November 26, 2012.
DVD
Scene Index
Birthday Picnic
Family Meal
Legends are Lessons
Just Listen
Getting Ready
Meet The Lords
The Games
The Argument
Merida Takes Off
The Crafty Carver
The Spell
The Cake
Transformation
Castle Hunt
Triplets' Distraction
Come Out, Wisps
Cauldron Message
Memory
Sunrise
Breakfast
Fishing With Mum
Chasing Wisps
The Ruins
Blockade
Cyrano
The Tapestry
Bear In The Castle
Desperation
The Key
To The Rescue
Showdown
Bear Fight
Second Sunrise
Epilogue
End Credits
Delivery
3-Disc Combo Pack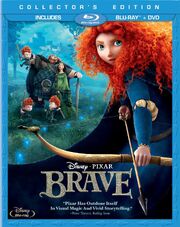 Blu-ray feature film disc (43GB)
Blu-ray special features disc (6GB)
DVD
La Luna - Theatrical Short
The Legend of Mordu - All-New Short Film
Director Commentary
Brave Old World
Merida & Elinor
Bears
Brawl in the Hall
Wonder Moss
Magic
Clan Pixar
Once Upon A Scene
Extended Scenes
"Fergus & Mor'du" An Alternate Opening
Fallen Warriors Montage
Dirty Hairy People
It is English…Sort Of
Angus
The Tapestry
Promotional Pieces
Art Gallery
Wee Gaffes
Renaissance Animation Man
Teasers and Sneak Peeks
5-Disc Combo Pack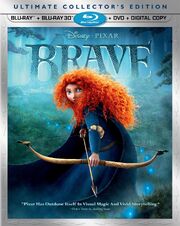 3D Blu-ray disc
Blu-ray feature film disc
Blu-ray special features disc
DVD
Digital Copy
La Luna - Theatrical Short
The Legend of Mordu
Director Commentary
Brave Old World
Merida & Elinor
Bears
Brawl in the Hall
Wonder Moss
Magic
Clan Pixar
Once Upon A Scene
Extended Scenes
"Fergus & Mor'du" An Alternate Opening
Fallen Warriors Montage
Dirty Hairy People
It is English...Sort Of
Angus
The Tapestry
Promotional Pieces
Art Gallery
Wee Gaffes
Renaissance Animation Man
Teasers and Sneak Peeks
Exclusives
References