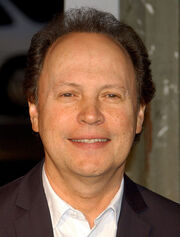 Billy Crystal (born March 14, 1948) is an American actor, writer, producer, director, comedian, and television host who performed the voice of Mike Wazowski in Monsters, Inc., Mike's New Car, and Monsters University. He reprised the role of Mike again in the credits of Cars, but this time as a small car.
Trivia
Originally, Crystal was offered to voice Buzz Lightyear in Toy Story, but turned it down. However, after seeing the finished movie, he stated that the decision to turn down the role was the biggest mistake of his career. When Pixar learned this, Crystal was offered the role of Mike Wazowski in Monsters, Inc., which he readily accepted.
Ad blocker interference detected!
Wikia is a free-to-use site that makes money from advertising. We have a modified experience for viewers using ad blockers

Wikia is not accessible if you've made further modifications. Remove the custom ad blocker rule(s) and the page will load as expected.