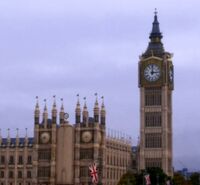 Big Bentley is a location in Cars 2.
Cars 2
Big Bentley is a spinoff of the Big Ben in London. Finn McMissile, Holley Shiftwell and Mater get tied up inside Big Bentley by Professor Z and his lemons. Grem and Acer set up their weapon/camera inside Big Bentley and shot it at Lightning McQueen, but nothing happened. They thought the weapon/camera was broken, so they went to plan B. They said they put a bomb in Lightning's pits and laughed, which made Mater say, "Dad-gum lemons!" which activated his guns. Then he said "Dad-gum" multiple times and the guns ripped the rope open, freeing Mater. Mater went to McQueen's pits to warn everyone about the bomb. When Finn and Holley were about to get smashed by the gears, Holley used her electroshock device and turned the clock back, but then they were about to get crushed by the other gear. They tried to free themselves from the clock by trying to go forward, and it worked. Finn went to stop Professor Z while Holley went to help Mater. It wasn't shown when people had put the time on Big Bentley back to normal.
Trivia
There is also a LEGO set of Big Bentley.