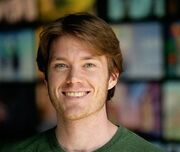 Austin Madison
is an animator at
Pixar
.
Austin graduated from the character animation program at California Institute of the Arts before getting hired as an animator at Pixar. Since he is a friend of Dick Figures creators Zack Keller and Ed Skudder, he was the voice of the minor villain Earl Grey of the series in only 2 episodes.
He also served as an special effects animator for the short traditionally-animated film Adam and Dog.
His credits include animating on Ratatouille, Toy Story 3 and Up.
External links
Ad blocker interference detected!
Wikia is a free-to-use site that makes money from advertising. We have a modified experience for viewers using ad blockers

Wikia is not accessible if you've made further modifications. Remove the custom ad blocker rule(s) and the page will load as expected.