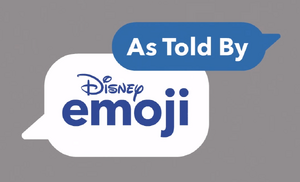 As Told by Emoji
is a series of shorts produced by Disney Interactive Studios.
Premise
The series consists of short, animated adaptations of well-known Disney feature films and tells them in the form of emoticons. The shorts are showcased within the confines of a mobile phone.
Currently, two Pixar films have been adapted for the series: Finding Nemo and its sequel Finding Dory. The shorts were uploaded onto Disney's official YouTube channel on May 31, 2016 and September 1, 2016 respectively.
Videos
Ad blocker interference detected!
Wikia is a free-to-use site that makes money from advertising. We have a modified experience for viewers using ad blockers

Wikia is not accessible if you've made further modifications. Remove the custom ad blocker rule(s) and the page will load as expected.