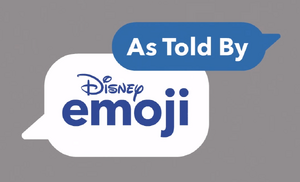 As Told by Emoji
is a series of shorts produced by Disney Interactive Studios.
Premise
The series consists of short, animated adaptations of well-known Disney feature films and tells them in the form of emoticons. The shorts are showcased within the confines of a mobile phone.
Currently, three Pixar films have been adapted for the series: Finding Nemo, Finding Dory and Coco. The shorts were uploaded onto Disney's official YouTube channel on May 31, 2016, September 1, 2016 and February 23, 2018 respectively.
Videos